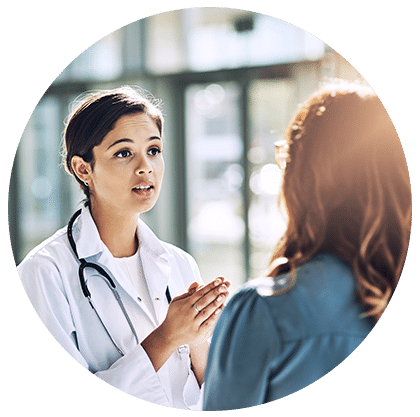 About Fibroids
Fibroids are can be a problem when trying to conceive, depending on their location in the uterus and size. If they are large or are interfering with the lining of the uterus, they increase the chance for miscarriage and infertility.  In these cases they can be removed by various methods depending on the fibroid location. The skilled surgical team at South Jersey Fertility Center are experienced in fibroid removal, while preserving the uterus for pregnancy.
Surgical options include:
Spotlight on
Da Vinci Surgical System
Surgical options are generally performed with the assistance of the da Vinci surgical system – sometimes referred to as "the robot". This technique provides a minimally invasive option for fibroid removal. Typical candidates are women with fewer than ten fibroids, with none exceeding 12 cm in size. The robot allows the surgeon to manipulate the narrow instruments with much more accurate control than with standard laparoscopy. This allows the surgeon to perform the closure of the uterine incisions with the same strong suturing technique as is used with the open myomectomy, but without the extended post-operative recovery that comes with the larger abdominal incision. Utilizing the da Vinci robotic system creates significantly decreased recovery times, with patients returning home same day. Studies have found that the robot assisted laparoscopic myomectomies have an even lower risk for poor healing of the surgical incision and loses less blood.
Contact us to learn more