Nurse Practitioner
Dana Dionot, APN-C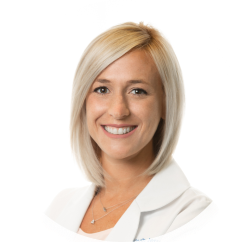 Board Certified Women's Health Nurse Practitioner
— Obstetrics and Gynecology
— Reproductive Endocrinology and Infertility
Dana received her Bachelor of Science in Biology from Saint Joseph's University in Philadelphia, followed by an accelerated second degree Bachelor of Science in Nursing from Drexel University. Dana completed her Master of Science, Women's Health Nurse Practitioner degree from Thomas Jefferson University. Prior to joining South Jersey Fertility Center, she worked as a registered nurse at Thomas Jefferson University Hospital on the high-risk antepartum unit for 2 years, followed by 5 years on Labor and Delivery. Dana is board certified as a Women's Health Nurse Practitioner, as well as a certified Inpatient Obstetrics Nurse.
Education and Affiliations
Education:
Thomas Jefferson University, MSN
Drexel University, BSN
Saint Joseph's University, BS
Professional Societies:
National Association of Nurse Practitioners in Women's Health (NPWH)
Certifications:
NCC Board Certified, Women's Health Nurse Practitioner
NCC national certification, Inpatient Obstetrics Nurse
Join our mailing list
Get our latest news and insights delivered right to your inbox.