Donor embryo can solve most infertility challenges
Because most infertility challenges stem from issues related to ovulation, egg, or sperm quality, using a donor embryo can bypass the typical fertility problems that couples face. Donor embryo is a treatment option in which individuals or couples select an already fertilized embryo available in cryopreservation. The selected donor embryo can then be transferred to the recipient, therefore eliminating the need for a full IVF cycle.
Treatment Forms & Medication Instructions: You can now access your important forms and medication instruction videos online via EngagedMD.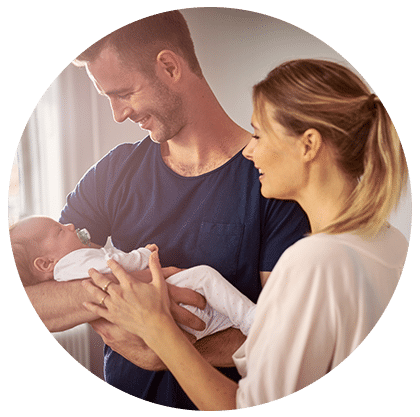 Why pursue donor embryo?
Utilizing donated embryos is a method of overcoming infertility from virtually any cause, and is a common option for single females without a partner. Donor embryo is also an affordable alternative to using an egg donor or frozen egg bank. Couples or individuals interested in using a donor embryo can review the medical history of the donating couples (lacking identifying information to maintain full anonymity) to choose their adopted embryos. Our team of fertility experts will help guide the recipient couple through the process of choosing embryos and preparing the recipient for embryo transfer.
Where do donor embryos come from?
Donated embryos are generously gifted by South Jersey Fertility Center patients who have undergone previous In Vitro Fertilization (IVF) cycles and had excess embryos after completing their family. The donating couples have expressly consented to donating their embryos to anonymous couples struggling with infertility.